When your loved one is experiencing a mental health crisis, our Florida Baker Act attorney, Mark Astor, is here for you. We can help you 24 hours a day, 7 days a week if a cop, mental health professional, or court has sent your loved one to a facility against their will and they are currently being held there.
The Baker Act, also known as the Florida Mental Health Act, states that if an individual is acting in an irrational way and could be harmful to themselves or others, they could be involuntarily taken to a facility and and placed there, for up to 72 hours.
The facility has to prove that your loved one meets certain criteria to be held for up to a 72-hour time period, or perhaps even longer if the end of the period falls on a weekend or a holiday. If they cannot provide proof, your loved one may be released without condition.
The first 72 hours is the BEST time to secure your loved one's release. Our team has dedicated over 20 years to providing unprecedented legal representation to those suffering from mental health and substance abuse disorders and helping them build a better future.
Mark Astor helped save my son's life after he was wrongfully Baker Acted in Florida. He has been a Godsend to us, I highly recommend Mark if you're faced with a Baker Act situation. Cannot thank him enough!!!Mary T., West Palm Beach, FL
Top 6 reasons why clients hire Baker Act attorney Mark Astor instead of anybody else:
Fighting Involuntary Baker Act for You & Your Loved Ones in the State of Florida
Watch all of our Baker Act video questions & answers here
If the facility where your loved one is held gets to the court before you and petitions, then the state of Florida could start making decisions for your loved one. They could be held in a facility for up to six months.
You want what's best for your loved one. They could be experiencing a mental heath condition that's had a debilitating effect on their life. They might be hurting themself or others are at least making threats that you're taking very seriously. Drugs and alcohol could be involved and fueling their issues.
Whichever situation your loved one is in, they might not know how to help themself, which could lead to them being sent to a facility. At this point, you have two decisions: You can let circumstances play out and see what the facility and possibly the state will do, or you could call an experienced Baker Act attorney to help you. They could file an emergency Petition for Writ of Habeas Corpus with the local Florida Circuit Court and ensure an emergency release hearing is held. You could possibly have a say in what happens to your loved one.
Above all else, you want your loved one to get the help they need, whether that means enrolling them in an outpatient or inpatient program, finding them a therapist, or ensuring they take the proper medication. You believe this is a private family manner and that your loved one should be part of the decision-making process. You don't think the state or mental health professionals who don't truly know your loved one should get involved. You know it's just not right.
Our Baker Act Attorneys will take immediate legal action as soon as you call us. We will let the facility know that we are representing your loved one and then we will take the necessary steps to prevent the facility from filing a petition.
Have questions about your gun rights with a Baker Act?
Read here
Whether you need a Baker Act attorney right away or you have questions about an involuntary placement, call us at 855-429-0074 for a confidential consultation now. (Consult during business hours)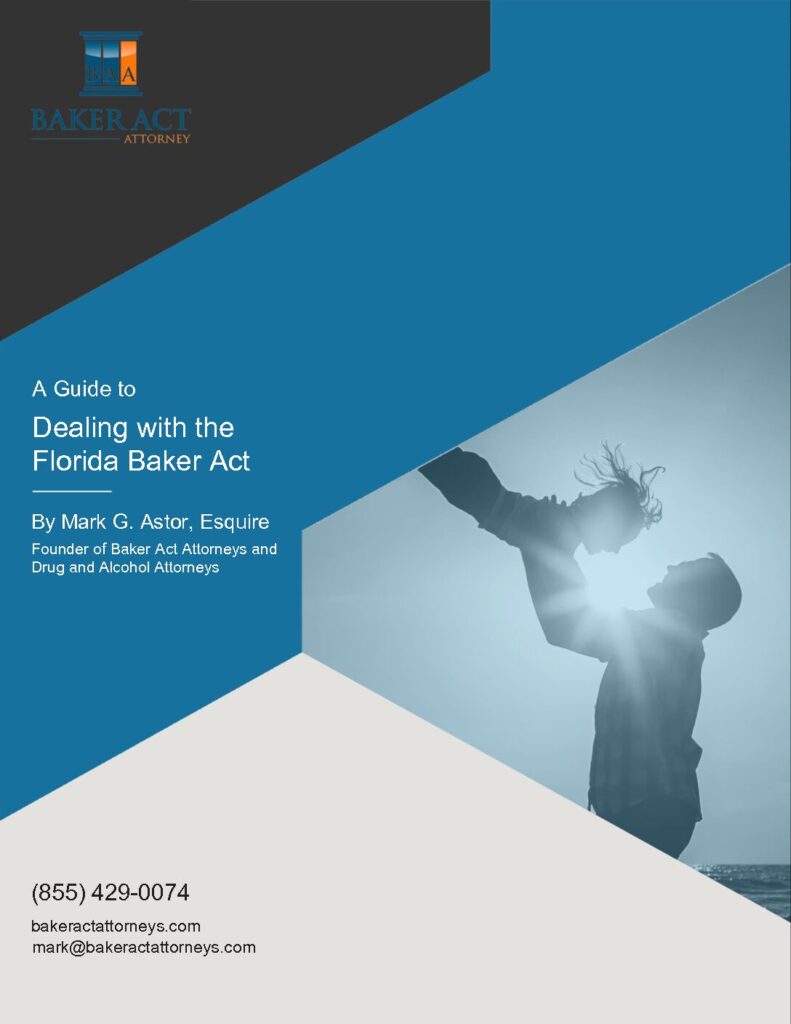 A Guide to Dealing with the Florida Baker Act
Check out our
eBook

Here
Call Us 24/7. Consultation During Business Hours.
Why Choose Us
01) 20+ Years Experience
Over 20 years of dedicated service to providing exemplary legal services to those suffering from mental health and substance abuse disorders.
02) We Get Results
We can make sure that your loved one who should not be held under the Baker Act, may be released in a very short time.
03) Immediate Action
We act immediately, on your behalf, to inform hospitals and physicians that we represent you, and that we are taking legal action to obtain the release of your loved one. We are prepared to file an emergency Petition for Writ of Habeas Corpus with the local Florida Circuit court, to force an emergency release hearing.
Can't call or chat now?
Fill out the form below to receive a confidential initial consultation.*Consultations with one of our attorneys may require payment of a fee
100% Confidential